At MyPigsty, we are a small, family owned and locally operated furniture store here in the Phoenix area owned by the Tyler Family. We have been in the furniture and cabinet business in the United States since 1913 - meaning next year will be our 100 year anniversary. We are 4th generation in the furniture business - all under the Tyler Family name! The picture on the right, taken on Valentine's day, was of our original furniture factory located at 5846 Slauson Street, in Los Angeles, CA. While this building is no longer standing, the Tyler family tradition and business has continued for nearly 100 years.
My Great-Grandfather, William Edmond George Thatcher Tyler (pictured on the far left of the photo in the 3-piece suit behind the radio), immigrated to the United States from Bristol, England with his wife Edith (next to her husband) and their two children. One these children was my grandfather, Leslie Arthur Tyler (pictured in the second row, 4th person over holding the family dog), who was raised as his children were in the family business.
At this time in the United States after the turn of the century, furniture and cabinets were nearly one and the same. A popular furniture piece that the Tyler Cabinet Co. LTD produced for many households was the radio cabinet. These items were considered to be one of the finest pieces of furniture you would purchase for your home - many of which were even counter-height (as pictured on the far-right and left of the photos). The Tylers were known to be master wood finishers. We sold finishing materials to literally EVERY kitchen cabinet and furniture maker in the entire state of California. Many other people and companies were capable of building furniture, but few knew how to finish (paint and stain) them as well as our family.
*Actual photo of the Tyler Cabinet Company, est. 1913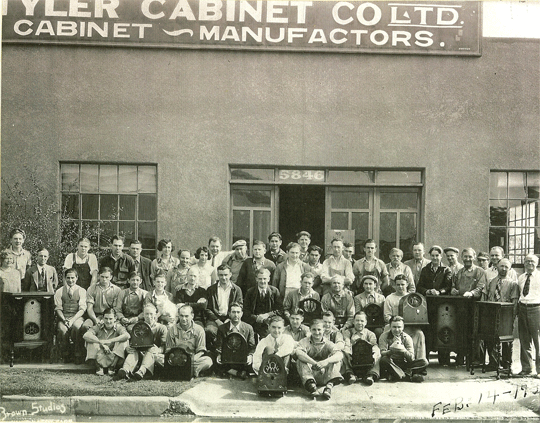 Our family tradition continues today in its fourth generation and after nearly 100 years in the furniture business as My Pigsty - still representing our same family traditions of quality and service.

Sincerely,
the Tyler Family
Mesa, Arizona